Stem Cell Technology Innovation Gives Us Marvel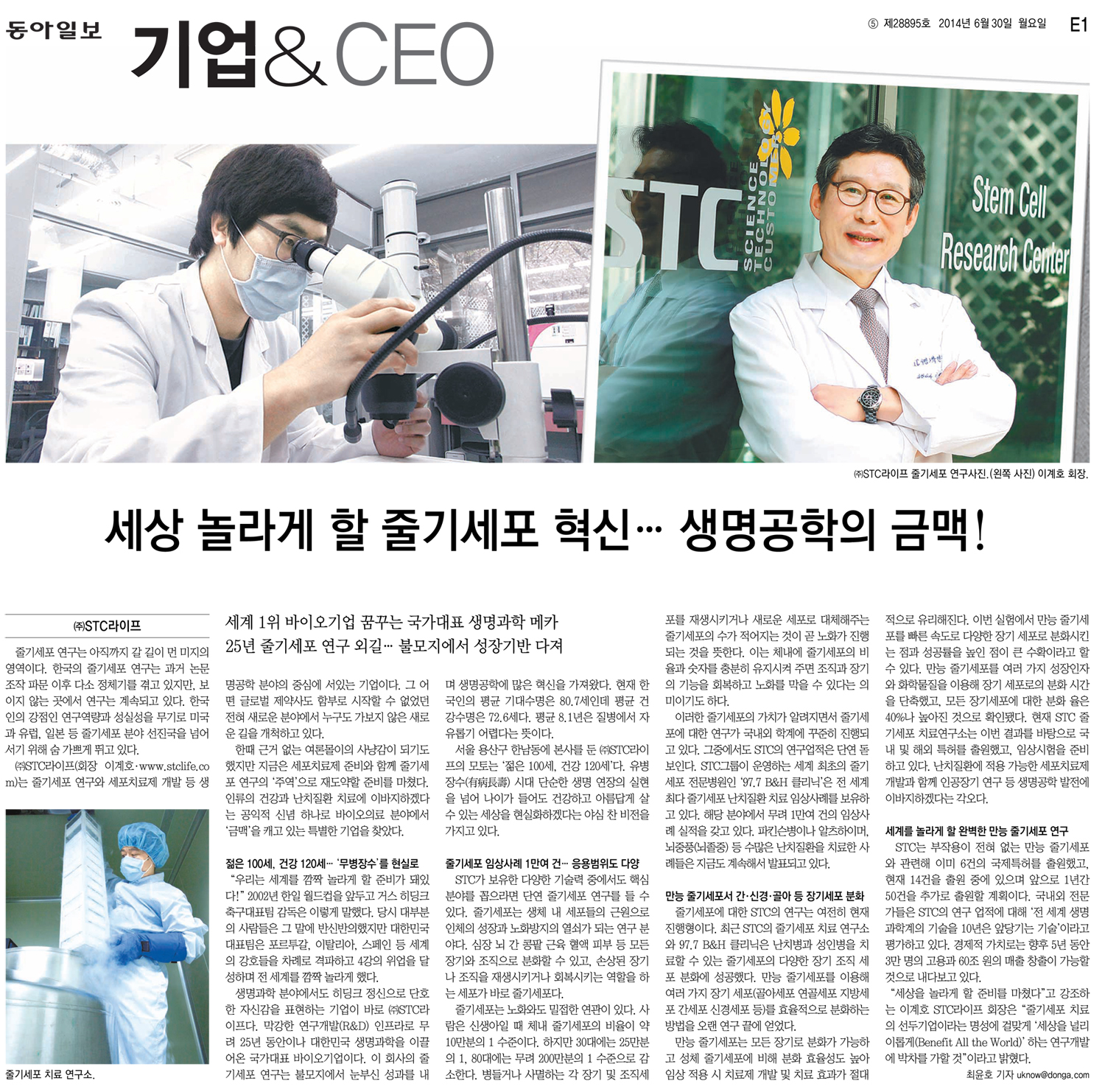 Stem Cell Technology Innovation Gives Us Marvel
– Aspiring to become a world leading bio-sciences company, STC Life has spent nearly three decades in stem cell research
Dong-Ah Ilbo
Jun 30, 2014
Field of stem cell research still remains a relatively unknown field yet to be developed. While stem cell research in Korea has been walking a stagnant path since Hwang's scandal, research efforts have been making progress continuously.
STC Life(www.stclife.com) is a leading life sciences company at the heart of stem cell research. Stem cell research is key to solving the mysteries of human body development and anti-ageing. Stem cells are capable of differentiating into every organs and tissues including the heart, brain, liver, kidneys, muscles, blood and skin. Moreover, the stem cells are capable of regenerating or restoring damaged organs or tissues. Stem cells are also responsible for ageing. In an infant, ratio of stem cells inside a human body is 100,000: 1 and this will drop to 2,000,000:1 in their 80s. Lesser number of stem cells that can replace the sick or dying organs or tissue cells means ageing. In other words, when the ratio and number of stem cells inside a human body is sufficiently restored, relevant tissues and organs will resume its healthy state and function and thus be able to prevent ageing.
STC Group's 97.7 B&H Clinic boasts over 10,000 clinical cases in treating incurable diseases including Parkinson's diseases, Alzheimer, Cerebral Infarction and the cases still continue today. Among most notable is development of the Newly Elicited Pluripotent Stem Cells without side effects by natural compound (STC -nEPS) that is now been proven to be capable of differentiating into tissue cells of different organs including the osteoblast, chondrocyte, adipocyte, hepatocyte and nerve cells. Not only is the STC -nEPS capable of differentiating into every organs, it also shows higher efficiency in differentiation relative to the adult stem cells which means more favorable outcome in treatment or development of treatments. The rate of differentiation into every organ tissues showed up to 40% higher.
With these findings, STC's Stem Cell Treatment & Research Institute (STRI) has applied for local and overseas patents prior to running clinical. Researchers from Korea and overseas see this finding as a major advancement in world life sciences. Once opened up to the market, the finding is expected to create 30,000 new jobs and 51 billion dollars in profit.
"Get ready for surprises!" remarked Founder and Chairman Lee Kye-ho in closing.