STC life science R&D center has developed various food supplements for the past 28 years and they are for fundamental health improvement.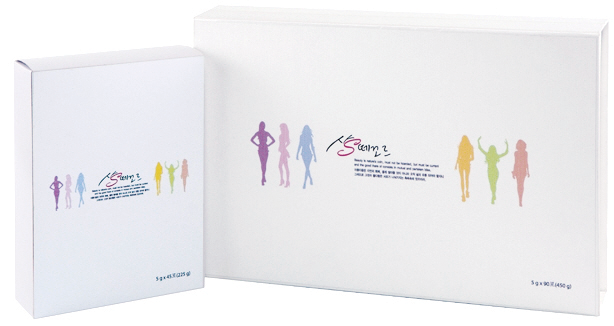 Sante Corps is a weight loss supplement which helps to lower your body fat by suppressing carbohydrate's synthesis into fat and by easing your bowel movement.
* Description
Due to stress, pollution, body toxin, waste matters and medicine poisoning, absorbing essential nutrients have become a challenge. This is why human body needs food supplements to help our body run a changeover. Sante Corps helps to transform carbohydrates into water within 20 minutes before they turn into body fat.
* Product features
US FDA safety assessment : a safe and trustable product
Dissolution and emission : Helps to dissolve and emit lactobacillus and enzyme
Contains 15 crops grown in Korea : 15 kinds of crops grown and fermented in Korea are used as core components
* 3 steps of activation principle

Estee 4 in 1 Gamma linolenic acid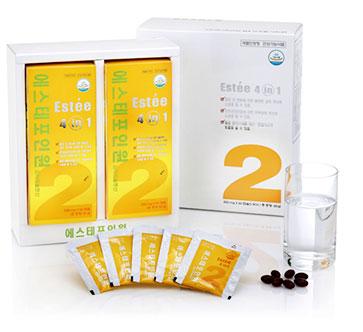 Estee 4-in-1 improves skin health(prevents wrinkles and skin drying), prevents menopausal disorder(cardiovascular illness, osteoporosis, depression, urinary disorder) and helps those suffering from premenstrual syndrome by providing multi-nutrients essential to women's health.
* Description
As an essential unsaturated fatty acid, Gamma Linolenic Acid may be consumed only through dietary intake. It helps to improve swelling before period, decrease blood cholesterol and slow down body ageing. Containing carion calcium 58% which is well absorbed into the body, developed by KIST(Korea Institute of Science and Technology), an essential nutrient, dried yeast(Selenium) selected by WHO, and Acerora Extract Powder which is good for anti-oxidization and well-known as miraculous fruit, it works for women's health and beauty.
* Product features
Provides healthy youth and vitality to women of all ages
Helps to improve premenstrual syndrome
Helps to improve cholesterol in the blood and blood circulation.
Helps to improve skin condition caused by hypersensitive reaction to immunity.
Carion Calcium(water soluble calcium)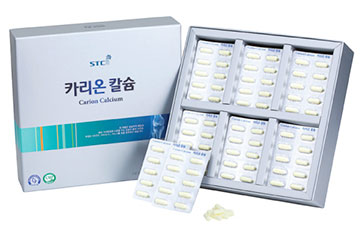 Carion calcium is a supplement that maximized intake and absorption both. Being weak alkaline(pH6.8~7.3), it prevents and improves acidification of the body fluid. Also, by containing Vitamin D, it helps to promote absorption of calcium and phosphorous to help formation and maintenance of bone and prevent osteoporosis.
* Description
Calcium is one of the most difficult nutrients to absorb. Carion calcium is ionic calcium that dissolves easily inside the stomach and more than 80% of the intake is absorbed into your body. Moreover, by containing Vitamin D, it helps to promote absorption of calcium and phosphorous to help formation and maintenance of bone and prevent osteoporosis.
* Features
Contains high purity calcium of over 90%.
Contains 60 kinds of different supplements to help absorption of mineral and calcium.
KIST report announced high body absorption rate of GOLD CA ionic calcium.
Uses a formulation that minimizes nutrients loss from heat.
Good morning royal all for one gel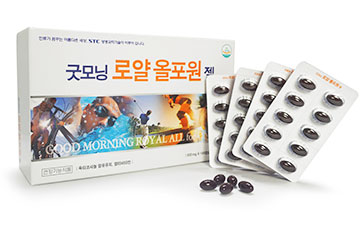 Mixing the oils and multi-vitamin of Octacosanol by golden ratio increase vitality and endurance.
* Description
Octacosanol, energy source, increases endurance, relieves stress, improves myocardial functions and basic metabolism, and is a food supplement functional ingredient recommended by Food and Drug Safety, and contains 7mg, the recommended daily intake. By containing multi-vitamin which is easily insufficient to contemporary men, it provides vitality.
* Features
Helps to improve basic metabolic rate and restore tired liver and body from alcohol and overwork.
Reinforces stamina and provide necessary nutrients.
Helps to maintain an active life by containing multi-vitamins necessary for human metabolism process.
Apart from these, we also have other various food supplements such as glucosamine, Hypolygel, Estramin, and Oxnium.