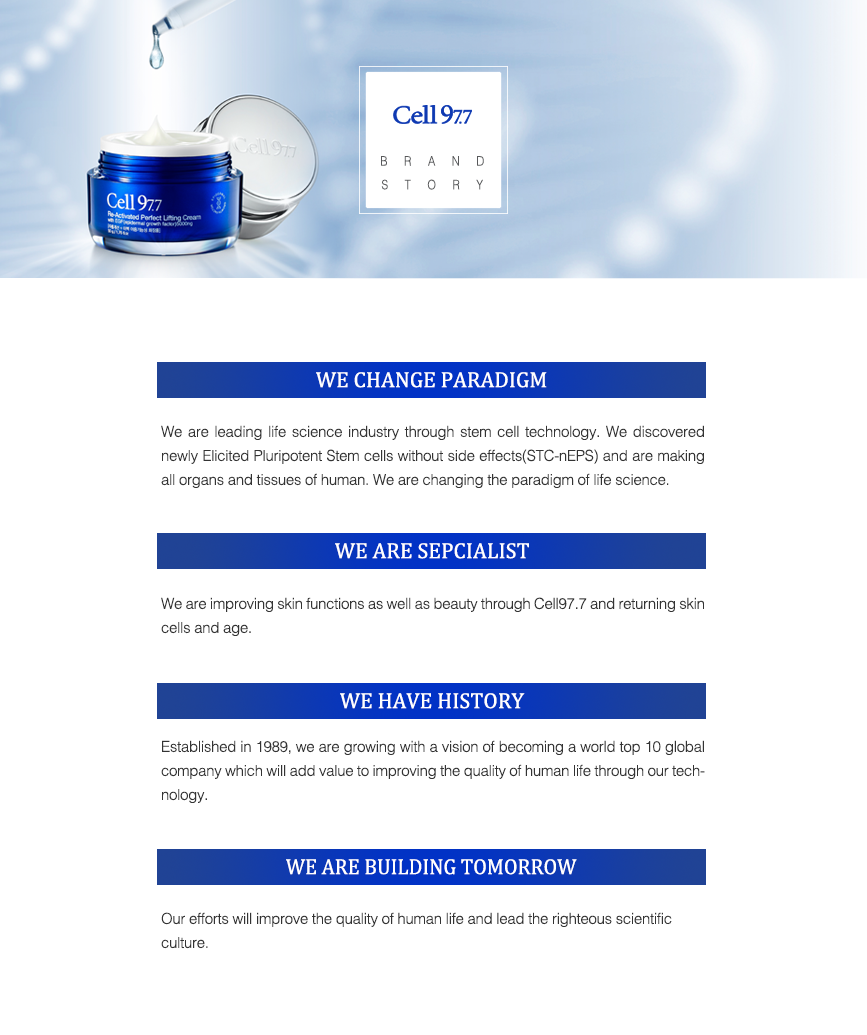 The Identity
Cell + 97.7(human body temperature 36.5℃ in Fahrenheit) = Cell97.7
Focus
Cell communicating science to awaken and activate the cells from deep within
Stem cells inside our body have the ability to direct itself towards the damaged or wounded area to help us regenerate or self-heal. Based on this 'homing' principle, it is believed that cell communicating elements help to direct themselves towards the damaged skin cells to restore the healthy condition.
 Human Stem cell conditioned media cosmetic brand concentrated with stem cell research & development technology and know-how over 30 years
By mixing stem cell conditioned media which is known as a cell communicating component with active ingredients for skin, it protects skin continuously from all kinds of hazardous environment, and provides surprising anti-aging skin care which is awoken from deep within
 Differentiated ingredient, core technology, STRI-HMSC

STRI-HMSC (STC-Human Stem Cell Conditioned Media)
Approximately 250 kinds of growth factors are generated while culturing stem cells and they promote cell separation, growth and differentiation. STRI-HMSC is a general term of those polypeptides. Various proteins similar to those inside of the body help to prevent or improve skin damage, and with rich moisturizing effect, make the skin smooth and supple. STC life science R&D center has developed stem cell conditioned media cosmetics and it is registered as STRI-HMSC(STC-humen Stem cell Conditioned Media) at ICID(International Cosmetic Ingredient Dictionary). STRI-HMSC has sufficient fibroblast growth factor FGF as well as VEGF, HGF, KGF, TGF-β1, fibronectin, Type1 collagen.
Growth factor contained in STRI-HMSC
By containing growth related materials such as fibroblast growth factor, bFGF, skin cell growth factor KGF, TGF-β, and IGF-1, HGF, VEGF, Procollagen, Fibronectin for skin recovery and protection, it helps to form collagen which leads to young, elastic, clean and transparent skin.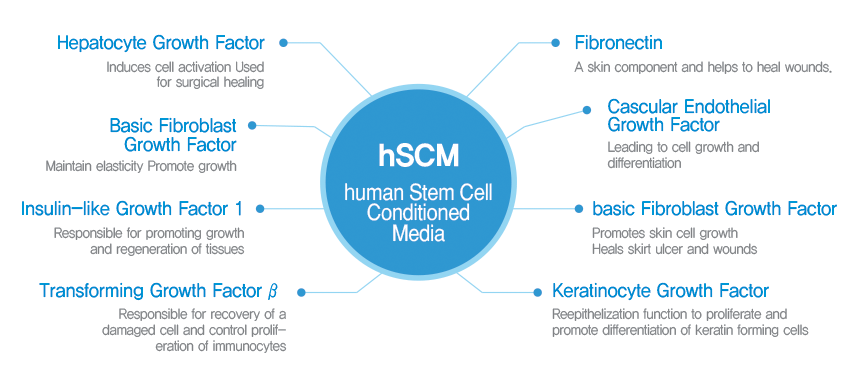 Superiority of STRI-HMSC
Adult stem cells which are most widely used currently are adipocyte stem cells, and most of the existing stem cell conditioned media cosmetics in the market use those adipocyte stem cells. However, STRI-HMSC contains fetal stem cell conditioned media from a umbilical cord which is the closest to an embryonic stem cell, a pluripotent stem cell, among adult stem cells.
• Strengths: whitening, wound healing, hair growth and regeneration, skin regeneration.
Matchless technology and safety of STRI-HMSC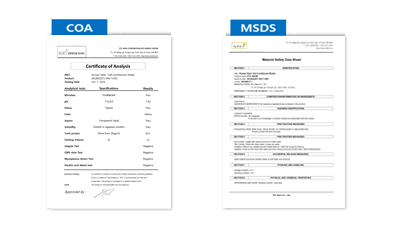 STRI-HMSC is registered at ICID(International Cosmetic Ingredient Dictionary) and only STC has the right to use it.